Singapore's Little India Walking Tour
Asia » Singapore » Singapore » Singapore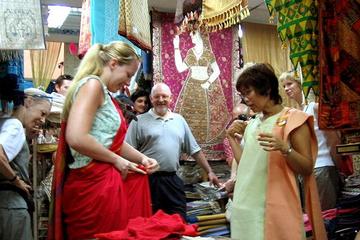 (5.0)
Duration: 2 hours 30 minutes
Departs: Singapore, Singapore
Price from USD 27.00
Book Now
Get a taste of Indian life on a walking tour through Singapore's Little India. As you visit booths selling spices, snacks and saris and visit Hindu temples, you'll experience the excitement and cultural richness of one of Singapore's favorite districts. Delight your senses on this exciting urban adventure!
Take a walking tour through one of Singapore's most attractive and vibrant districts. As you walk down the streets of Little India, your English-speaking guide will recount stories of the British East India Company's attempt to control the spice trade route. Keep your eyes open for fresh flower garlands, freshly strung on the spot. As you continue strolling, you'll enjoy Little India's most vibrant street, where fresh fruits and veggies are lined up in colorful shops.

Visit the Little India Arcade, where you'll find a myriad of lively bazaars selling everything you'd find in Delhi or Mumbai. Shop for intricate hand-embroidered saris and colorful bangles. If you're adventurous, get your hand decorated by henna! Don't forget to try some delicious Indian snacks and sweets at one of the arcade booths.

Finish off your tour by visiting the Sri Veeramakaliamman Temple, the oldest and one of the most popular Hindu temples in Singapore, located in the heart of Little India. The Sri Veeramakaliamman Temple is an intricate temple dedicated to the Hindu goddess Kali, the god of Shiva's wife.
« All Activities