Private Tour: Singapore Zoo Morning Tour with optional Jungle Breakfast amongst Orangutans
Asia » Singapore » Singapore » Singapore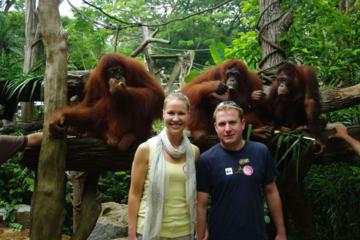 (5.0)
Duration: 4 hours
Departs: Singapore, Singapore
Price from USD 104.79
Book Now
Enjoy the flexibility of this private Singapore Zoo tour where you will experience a new concept in animal keeping with the Singapore Zoo's beautifully landscaped gardens and very few cages. This morning tour is your chance to enjoy an optional 'Wild Breakfast" with three of the friendly animals, including the famed Orangutan.
Singapore Zoo has the world's most successful orangutan-breeding program, and the largest social colony of these highly intelligent primates. Don't miss the opportunity to photograph and interact with the orangutans as they swing and climb in their naturalistic enclosure.

Singapore Zoo is in the north of the island at Mandai, by the serene Seletar Reservoir, and is immensely proud of its orangutan-breeding program. By focusing on these magnificent creatures, whose plight symbolizes the disappearance of tropical rainforests around the world, the zoo hopes to nurture a respect and deep appreciation of nature in all who visit the zoo.

Witness the orangutan descend from a naturalistic backdrop filled with vines and branches, followed by a once-in-a-lifetime opportunity for interaction and photography with these intelligent and iconic symbols of the disappearance of the tropical rainforests. With a commentary highlighting the plight of this magnificent creature, the Zoo hopes to inspire in its guests a respect and deep appreciation of nature.

After the optional breakfast enjoy a tram ride around what is also known as the Open Zoo - a totally new concept in animal keeping with its beautifully landscape gardens and very few cages!
« All Activities